FOR IMMEDIATE RELEASE
July 31, 2012
Getty Displays Student Artwork as Part of the Getty Artists Program
Large-scale Images Represent the Work of Students Who Participated in Artist John Divola's "Digital Scavenger Hunt"

Getty Artists Program: Digital Scavenger Hunt

At the J. Paul Getty Museum, Getty Center
On view beginning July 31, 2012
MEDIA CONTACT:
Alexandria Sivak

Getty Communications
(310) 440-6473
asivak@getty.edu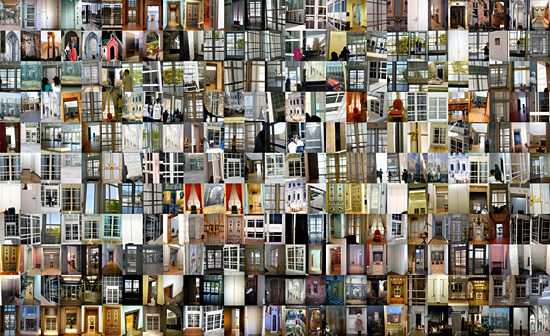 Doors/Doorways
. Digital Scavenger Hunt, with John Divola. © 2012 The J. Paul Getty Trust
LOS ANGELES—Shoes, hats, and doorways are among the subjects explored in giant photographs
on view at the Getty Center beginning July 31, 2012
. Made by elementary school and college students, the images were created as part of the
Digital Scavenger Hunt
project designed by artist
John Divola
for the
Getty Artists Program
.
Each year, the Getty Museum invites one artist to take part in its
Getty Artists Program
, creating and implementing a project of his or her choosing. Divola, who works primarily with photography and digital imaging, proposed the scavenger hunt as a way for students to work together on a piece of art.
"We have looked to artists whom we know have an interest in and engagement with education or audiences," explains Toby Tannenbaum, assistant director for Education at the J. Paul Getty Museum. "John's project offered students at very different levels a chance to engage with the Getty's collection while creating collaborative, unique artworks that we are delighted to share with our visitors."
Challenged to locate and photograph specific items at the museum, including skies, brightly colored shoes, gold and silver, heads with hats and helmets, plates, bowls, vases, and doorways, photography students from Santa Monica College, East Los Angeles College, Pierce College and College of the Canyons worked with Divola and college faculty. As part of the Museum's multiple-visit program Art Together, students from Hooper Avenue Elementary School were loaned digital cameras in order to capture images during their Museum visits. Their photographs were then combined to create large, collective works of art. This playful and open-ended project provides a unique introduction to the museum experience.
"As photographers we delight in the medium because it generally pulls us out into the world, both literally and figuratively, in a heightened sense of awareness," explains Divola. "This project presents a straightforward invitation to that process for students."
The results are on view at the Getty Center in the Museum Entrance Hall and also
online
, along with a video interview with Divola and footage of students participating in the hunt.
The
Getty Artists Program
was launched in 2010 in order to extend the Education department's existing artist-based programs to include individual artist projects. Past participants have included artists Mark Bradford and Jennifer Steinkamp.
# # #

The J. Paul Getty Trust is an international cultural and philanthropic institution devoted to the visual arts that includes the J. Paul Getty Museum, the Getty Research Institute, the Getty Conservation Institute, and the Getty Foundation. The J. Paul Getty Trust and Getty programs serve a varied audience from two locations: the Getty Center in Los Angeles and the Getty Villa in Malibu.

The J. Paul Getty Museum collects in seven distinct areas, including Greek and Roman antiquities, European paintings, drawings, manuscripts, sculpture and decorative arts, and photographs gathered internationally. The Museum's mission is to make the collection meaningful and attractive to a broad audience by presenting and interpreting the works of art through educational programs, special exhibitions, publications, conservation, and research.

Visiting the Getty Center
From June 1–September 21, 2012, the Getty Center is open Tuesday, Wednesday, Thursday and Sunday from 10 a.m. to 5:30 p.m., and Friday and Saturday from 10 a.m. to 9 p.m. It is closed Monday and major holidays. Admission to the Getty Center is always free. Parking is $15 per car, but reduced to $10 after 5 p.m. on Fridays, Saturdays and for evening events throughout the week. No reservation is required for parking or general admission. Reservations are required for event seating and groups of 15 or more. Please call (310) 440-7300 (English or Spanish) for reservations and information. The TTY line for callers who are deaf or hearing impaired is (310) 440-7305. The Getty Center is at 1200 Getty Center Drive, Los Angeles, California.

Additional information is available at www.getty.edu.
Sign up for e-Getty at www.getty.edu/subscribe to receive free monthly highlights of events at the Getty Center and the Getty Villa via e-mail, or visit www.getty.edu for a complete calendar of public programs.